Welcome

Last Update: March 20, 2023
Scoutmaster Bucky
Serving Scouts since January 2009
Over
15,000+
Scout in-person merit badge opportunities and over
2,000+
Scout online merit badge opportunities, with thousands of past Cub Scout and Venturing advancement opportunities.
Remember the Scout Motto:
Be Prepared
At Scoutmaster Bucky events this is not a request, wish, or desire…
Scoutmaster Bucky Event Calendar
Registration opens at 12:05 am on the first of the month for the following month's activities. The only exception is that February events open on January 2 at 12:05 am. Some events do open for registration earlier, so please check events carefully below.
News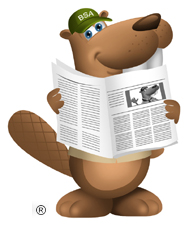 NEW!
February 11, 2023 in Bloomington, Minnesota will be an in person event. Registration opens soon
NEW!
More online classes coming in early 2023, keep checking back!
Disclaimer
The Scoutmaster Bucky program is a volunteer run program managed and maintained entirely by Brian Reiners (Scoutmaster Bucky) in conjunction with the council of Northern Star Scouting and other Scouting volunteers. All content, scheduling, arrangements, and the like are managed by Scoutmaster Bucky. All proceeds collected go to cover program expenses and operating costs (including but not limited to building rentals, program materials, class materials, and technology support), with any profits (when and if there are any) put back into the Scouting program annually.
Refund Policy & Contact Information
Requests for refunds or cancellations will be honored up to a week prior to any event.
Scoutmaster Bucky is Brian Reiners and is registered in Northern Star Scouting of the Boy Scouts of America.
Contact number: 612-483-0665
Email: ScoutmasterBucky@yahoo.com
UPCOMING EVENTS
Scoutmaster Bucky
March 23, 2023
Journalism Merit Badge Online
Scoutmaster Bucky
April 6, 2023
Energy Merit Badge Online
Scoutmaster Bucky
April 8, 2023
Citizenship in Society Merit Badge Online
Scoutmaster Bucky
April 8, 2023
Citizenship in Society Merit Badge Online
Scoutmaster Bucky
April 15, 2023
April Merit Badge Day
Morning Classes
Mid-Day Class
Afternoon Classes
May 20, 2023
Clever Coyote
Mayday @ Birch Bend Campground
This is a repeat of the scenario from last fall.
Can your team survive the Clever Coyote challenge? Participants will experience a simulated survival event where their wits and resourcefulness are put to the test. There is a new challenge each year.
Your airplane is malfunctioning and is unable to stay aloft. The pilot calls for mayday and the worst imaginable scenario happens – the flight crashes. You survive with a couple others. You're in unfamiliar territory and you've still got a job to do.
Open to adventurous youth involved with any Scouting program. Visit the Clever Coyote website for more about this event plus a lot of great videos to help you prepare for the challenges ahead.
Hosted at Birch Bend Campground just west of Lake Mille Lacs in central Minnesota – a short drive north of the Twin Cities.