Welcome

Last Update: December 7, 2022
Scoutmaster Bucky
Serving Scouts since January 2009
Over
14,500+
Scout in-person merit badge opportunities and over
1,975+
Scout online merit badge opportunities, with thousands of past Cub Scout and Venturing advancement opportunities.
Remember the Scout Motto:
Be Prepared
At Scoutmaster Bucky events this is not a request, wish, or desire…
Scoutmaster Bucky Event Calendar
Registration opens at 12:05 am on the first of the month for the following month's activities. The only exception is that February events open on January 2 at 12:05 am. Some events do open for registration earlier, so please check events carefully below.
News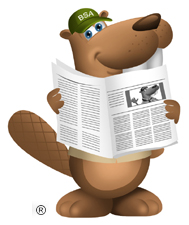 NEW!
November 5, 2022 in Bloomington, Minnesota will be an in person event. Registration is OPEN
NEW!
December 17, 2022 in Prior Lake, Minnesota will be an in person event. Registration is OPEN
NEW!
working on more online offerings, keep checking back - Holiday classes will be posted soon
Disclaimer
The Scoutmaster Bucky program is a volunteer run program managed and maintained entirely by Brian Reiners (Scoutmaster Bucky) in conjunction with the council of Northern Star Scouting and other Scouting volunteers. All content, scheduling, arrangements, and the like are managed by Scoutmaster Bucky. All proceeds collected go to cover program expenses and operating costs (including but not limited to building rentals, program materials, class materials, and technology support), with any profits (when and if there are any) put back into the Scouting program annually.
Requests for refunds or cancellations will be honored up to a week prior to any event.
Scoutmaster Bucky is Brian Reiners and is registered in Northern Star Scouting of the Boy Scouts of America.
Contact number: 612-483-0665
Email: ScoutmasterBucky@yahoo.com
UPCOMING EVENTS
Scoutmaster Bucky
December 17, 2022
December Merit Badge Day
Morning Classes
Afternoon Classes
Morning Classes
Afternoon Classes