Welcome

Last Update: May 17, 2022
Scoutmaster Bucky
Serving Scouts since January 2009
Over
15,000+
Scout merit badge opportunities, over
1,500+
Scout online merit badge opportunities, and thousands of Cub Scout and Venturing advancement opportunities.
Remember the Scout Motto:
Be Prepared
At Scoutmaster Bucky events this is not a request, wish, or desire…
Scoutmaster Bucky Event Calendar
Registration opens at 12:05 am on the first of the month for the following month's activities. The only exception is that February events open on January 2 at 12:05 am. Some events do open for registration earlier, so please check events carefully below.
News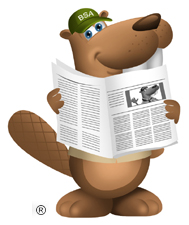 NEW!
Added several online offerings throughout May and June.
Disclaimer
The Scoutmaster Bucky program is a volunteer run program managed and maintained entirely by Brian Reiners (Scoutmaster Bucky) in conjunction with the council of Northern Star Scouting and other Scouting volunteers. All content, scheduling, arrangements, and the like are managed by Scoutmaster Bucky. All proceeds collected go to cover program expenses and operating costs (including but not limited to building rentals, program materials, class materials, and technology support), with any profits (when and if there are any) put back into the Scouting program annually.
Requests for refunds or cancellations will be honored up to a week prior to any event.
Scoutmaster Bucky is Brian Reiners and is registered in Northern Star Scouting of the Boy Scouts of America.
Contact number: 612-483-0665
Email: ScoutmasterBucky@yahoo.com
UPCOMING EVENTS
Scoutmaster Bucky
May 4, 2022
Citizenship in Society Merit Badge Online
Scoutmaster Bucky
May 12, 2022
Model Design and Building Merit Badge Online
Model Design and Building Merit Badge
Scoutmaster Bucky
May 19, 2022
Citizenship in Society Merit Badge Online
Scoutmaster Bucky
May 26, 2022
Journalism Merit Badge Online
Scoutmaster Bucky
June 2, 2022
Citizenship in Society Merit Badge Online
Scoutmaster Bucky
June 7, 2022
Inventing Merit Badge Online
Disc Golf Open at Rum River
7th Annual David Sitler Memorial Disc Golf Open
Saturday, June 11, 2022 — 9:00-5:00
Thursten Lodge — Rum River Scout Camp
15659 St. Francis Blvd. NW, Ramsey, MN 55303
Registration for the Open is $15 per person, included is a commemorative mini disc. All profits go twoards helping to maintain and improve the disc golf course. Check-in is at Thurston Lodge 20 minutes prior to your time slot. The time slots are every 15 minutes. If needed, camp has loaner discs: 1 mid-range, 1 putter.
For more information, please email rgsitler@gmail.com.
Walk-ins are welcome as space allows.
This private course is open to everyone just for this Open.
Make a bid on our silent auction. All proceeds go towards course maintenance and improvements.
All ages and abilities welcome. This is for the fun of the game.
The event will happen Rain or Shine
Scoutmaster Bucky
June 17, 2022
Citizenship in Society Merit Badge Online
Scoutmaster Bucky
June 22, 2022
Genealogy Merit Badge Online
Scoutmaster Bucky
July 7, 2022
Fire Safety Merit Badge Online
October 1, 2022
Clever Coyote
Mayday @ Birch Bend Campground
Mark your calendar and prepare for the ultimate skills challenge – can you survive the Clever Coyote challenge? Participants will experience a simulated survival event where their wits and resourcefulness are put to the test. There is a new challenge each year.
Your airplane is malfunctioning and is unable to stay aloft. The pilot calls for mayday and the worst imaginable scenario happens – the flight crashes. You survive with a couple others. You're in unfamiliar territory and you've still got a job to do.
Open to adventurous youth involved with any Scouting program, as well as adults that would like to compete against the kids. Visit the Clever Coyote website for more about this event plus a lot of great videos to help you prepare for the challenges ahead.
Hosted at Birch Bend Campground just west of Lake Mille Lacs in central Minnesota – a short drive north of the Twin Cities.